Pastor's Corner for February 12, 2017:  Ending Human Trafficking
This past Wednesday was the memorial of St. Josephine Bakhita (1869 -1947) and the International Day of Prayer for the Victims of Human Trafficking.
St. Josephine was kidnapped as a child in Darfour and sold into slavery and Italy. Once Josephine was freed, she became a Canossian sister and dedicated her life to sharing her testament of deliverance from slavery and comforting the poor and suffering. She was declared a saint in 2000.
On December 2, 2014 at the Casina Pio IV (headquarters of the Pontifical Academies of Sciences and Social Sciences), Catholic, Anglican, Muslim, Hindu, Buddhist, Jewish and Orthodox religious leaders signed a Joint Declaration of Religious Leaders Against Modern Slavery as a public statement of their commitment to work together in spiritual and practical action to eradicate this crime against humanity, and restore dignity and freedom to its victims. Before the signing of the Joint Declaration each religious leader described his or her motivations for adhering to this document.
Perhaps this was the first time that religious leaders came together, adding to their interreligious dialogue, to make a common statement to affirm that the other is like you, that the other must be recognized as such, and that you must treat others as you would have them treat you. You must love your neighbor as yourself. This means upholding and defending the true identity of human beings, which is compromised by the globalization of indifference whose gravest consequences can be seen in modern forms of slavery and human trafficking — the systematic deprivation of a person's liberty, and abuse of his or her body, for example through mutilation or organ removal, for the purposes of commercial exploitation.  Here is the text of declaration: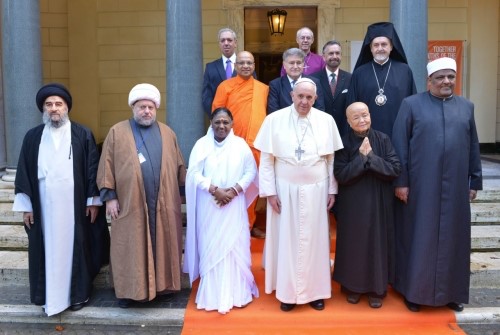 "We, the undersigned, are gathered here today for a historical initiative to inspire spiritual and practical action by all global faiths and people of good will everywhere to eradicate modern slavery across the world by 2020 and for all time.
"In the eyes of God each human being is a free person, whether girl, boy, woman or man, and is destined to exist for the good of all in equality and fraternity. Modern slavery, in terms of human trafficking, forced labour and prostitution, organ trafficking, and any relationship that fails to respect the fundamental conviction that all people are equal and have the same freedom and dignity, is a crime against humanity.
"We pledge ourselves here today to do all in our power, within our faith communities and beyond, to work together for the freedom of all those who are enslaved and trafficked so that their future may be restored. Today we have the opportunity, awareness, wisdom, innovation and technology to achieve this human and moral imperative."