Fr. Ioane Ono
Fr. Ioane Patita Ono moved into our parish rectory on August 1st, 2017 and plans to be with us for nearly three years. He is a diocesan priest from the Arch-diocese of Samoa-Apia. He was born in Samoa on June 14, and was named after St. John the Baptist, whose feast day is June 24th. (Ioane Patita means "John the Baptist" in the Samoan language.)
Fr. Ioane graduated from the Pacific Regional Seminary of Saint Peter Chanel, Suva, Fiji Islands, with a Bachelor of Divinity Degree in 1990. He was ordained a priest in Samoa on May 29, 1991, and he worked in various parishes around his diocese until 2004, when he left for Rome to undergo further studies in theology. Two years later he graduated from the Pontifical Gregorian University in Rome with an S.T.L. (Licentiate in Systematic Theology).
Fr. Ioane lectured in theology at the Pacific Regional Seminary of St. Peter Chanel from 2008 to 2010. He was appointed the Chancellor for the Diocese in 2012 and was simultaneously a full-time lecturer at Moamoa Theological College, Apia. On January 20th of this year, he arrived at the Jesuit School of Theology to continue the last hurdle of his theological journey: completing the S.T.D. program (or Doctorate in Sacred Theology degree).
We are blessed to have Fr. Ioane join our parish, and look forward to some learned homilies in systematic theology!
Fr. Laurent Okitakatshi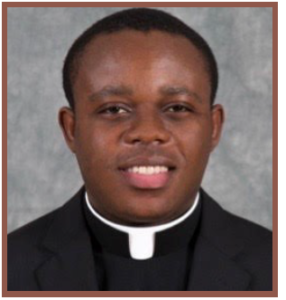 Fr. Laurent (aka Fr. Lawrence) has joined us from the Congo!
On Wednesday, August 23, 2017 Fr. Laurent Okitakatshi set foot in California for the very first time. Having spent the past three years in St. Louis, where he received his Master's Degree (and was fortunate to witness the total eclipse of the sun just before leaving), he is finding Berkeley beautiful, but a bit on the chilly side. Like Fr. Ioane Ono, who arrived here on August 1st, Fr. Laurent plans to stay with us for a few years, while he pursues a doctorate in Sacred Scripture at the GTU (Graduate Theological Union).
Fr. Laurent  was ordained to the priesthood on July 16, 2017, in his Diocese in the Congo. We are fortunate that he has found a second home with us here at St. Mary Magdalen parish.