1st and 4th Sunday Dinners for the Poor and Homeless
Volunteers are always needed to help feed the guests at our 1st and 4th Sunday meals, which serve from 100-150 guests at 3:00 p.m. in the Parish Hall.  Anyone's help, even if it's only for an hour, is very helpful to the smooth running of our all-volunteer operation.  Parishioners' homemade desserts are especially appreciated by our guests, and are brought to the Parish Hall (on a 1st or 4th Sunday) before 1:30 pm.
The times of greatest need are: 
set-up/cook at from noon to 1:00 pm
serve from 2:30
clean up from 3:30. We always need help cleaning up.
A bit of history:
This program began in the mid-1980s as sandwiches prepared in the Parish Hall kitchen under the direction of Sr. Ann Ronin, O.P. In 1989, at the suggestion of then-pastor Conrad Antonsen, O.P., Peter Hurd and Trish Maniatis created a full-scale Sunday Dinner, supervising the 1st and 4th Sundays of the month, respectively. Peter and Trush have moved on from this ministry, but are still remembered fondly by some of our long-time guests, as well as other parishioners seminal to its continuing success: Larry Mannion, (the late) Jerry O'Brien, Patty Darragh, Chris Durieux, Ann Nelson and Earl Jacobs.
For the past several years, the husband-and-wife team of George Baranowski and Mary Jo Senica have supervised the operation and its volunteer staff.  Ann Fitzgerald and Wendy McWilliams oversee the ordering of food and the bread pick-up from Semifreddi's Bakery.  Longtime volunteer Florence Wahl distributes the leftover food, among her many other contributions. Peter Conn is the treasurer.
Mission Dinner Community
The Mission Dinner Community gathers one Sunday a month for fellowship, to enjoy a great meal and to raise funds for poverty and justice-related causes. One of our main missions is to support the Dominican Missionaries and Fr. Miguel Rolland, O.P., and his parish, Santa Maria de Guadelupe in Mexicali. Come and enjoy our potluck gathering, and get interested in what God is doing in Mexicali ! Everyone is welcome !
Our last gathering took place at Sunday, May 21st, in Norton Hall, where we were treated to  a "mini-concert" by our own Music Director Andy Canepa with soprano Luciana Miranda in advance of the concert they were to give in Mexicali this June. (Due to the time necessary to locate a good piano, the concert has been postponed until next year.)
In future our Mission Dinners will no longer happen monthly, but will instead be organized around special events. Our next Mission Dinner will take place on World Mission Sunday, October 15, 2017.  We look forward to Fr. Miguel returning to preach that weekend!
Peace and Social Justice
The Peace and Social Justice Ministry seeks a deeper understanding of current social issues in light of gospel values and the key themes of Catholic Social Teaching. Through prayer and research, we develop a plan of action to promote positive change. We provide education through lectures and panels, are involved in letter-writing campaigns and petition drives. In the past, our committee has participated in the National Religious Campaign against Torture, and individual members have joined Bread for the World, Maryknoll Missionaries, and other charitable organizations.

The Refugee Aid Committee works with refugees living at (or recently moved from) Casa Francisca in Oakland. We meet on the Friday after the second Wednesday of the month. Casa Francisca is a temporary stop–usually for 18 months or less–mostly for mothers and children, as well as young people who have just arrived here and who have no other family here.  Casa Francisca is a homey place, where residents share meals and chores. It provides a base for new refugees until they can find more permanent accommodations. Most of the guests return to visit and reconnect with each other after they move on, and so Casa Francisca also acts as a community center.
For Lent the Parish and School communities committed to filling eight boxes for recently-arrived refugees being resettled through the Oakland office of the IRC (International Rescue Committee).  Our "Giving Tree for Refugees" (a joint partnership with the school), was an incredible success: our goal was to fill four welcome boxes, and we filled 16, with 32 boxes of "odds-and-ends" left over that were delivered to residents of Casa Francisca and other refugee houses.
Please contact the Parish Office for more information, or just show up for a meeting!  The next one will take place at 4:00 pm on Friday, August 11th.
St. Vincent de Paul Society
The Society of St. Vincent de Paul is an international Catholic organization of lay persons, founded in 1833 by Frederick Ozanam and his companions. In the spirit of justice and charity, its members seek to help those in need. We visit people at home and in hospitals, reaching out to the lonely and alienated. Thanks to the generosity of the community at St. Mary Magdalen, we are able to give money, food, and clothes to those in need. We also appreciate financial contributions, and are always looking for new members to assist in our ministry.  We meet in Norton Hall on the 1st Monday of every month. For more information, please contact the Parish office at (510)-526-4811.

Funeral Reception
The Funeral Hospitality Committee is coordinated by John Rengel. For more information, please contact the Church Office at (510)-526-4811.

Eucharistic Ministry to the Homebound
Are you interested in sharing the warmth of your heart by visiting a homebound parishioner? Short, friendly visits, in which you bring the Eucharist and the prayers of our community will gladden the hearts of those who can no longer attend Mass nor participate in community activities. Please email Fr. Nick Glisson if you are interested in joining this important ministry.

Berkeley Food Pantry Collection
This program is an offshoot of our Holiday Outreach Program. Each month on the first Sunday our parish collects food for the Berkeley Food Pantry. This collection is a great benefit for the Food Pantry, which is connected with the Alameda Food Bank. Many needy persons receive food at this pantry every month, and the more that is donated, the less the program must spend to purchase food for distribution.
The Food Pantry's revised need list for 2017: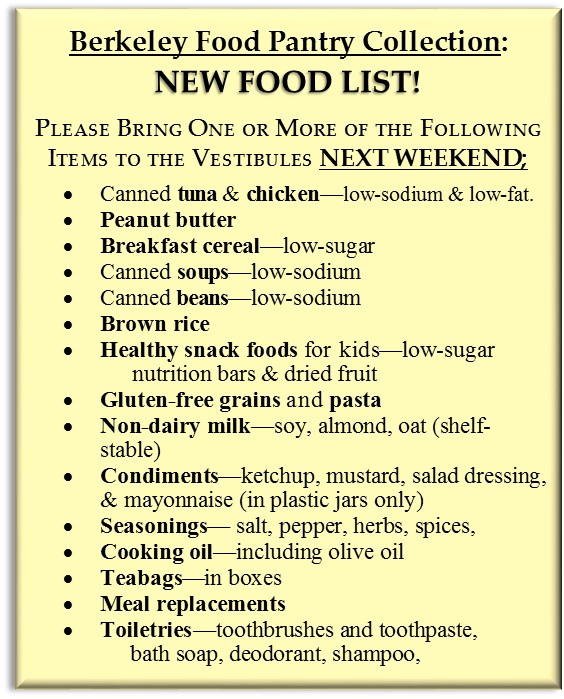 Holiday Outreach
During Advent, we make an extra effort to help make the Holidays a time filled with hope and joy for people in need. A 'Giving Tree' is placed in the Sanctuary during the week of Thanksgiving, and gifts are delivered to the Parish Hall several days before Christmas, where volunteers sort and bag the items.
Last Christmas (2016) our parish supplied gifts and food certificates to 38 families, mainly at St. Mary's Center in Oakland. Catholic Charities also received many gifts from our parish that were used in their 'Joybell' give-away.
In addition we were able to send checks to the following organizations:  Mercy Center Brown Bag Program ($1500); Catholic Charities of the East Bay ($500), Elizabeth House ($250), and St. Vincent de Paul ($250).

Young Adults of St. Mary Magdalen (YAMMs)
Young Adults of St. Mary Magdalen (YAMMs) is a faith growing, social and service group for anyone who considers themselves a young adult. We are a mix of single, married, and parenting Catholics who are building community together!
Past activities include: the Mardi Gras Party, rosary making for prison ministries, a lecture series on the Seven Deadly Sins and Theology of the Body, volunteering at the San Francisco Food Bank, retreats with the Dominican Sisters of Mission San Jose, Catholic Underground, Dodgeball Tournament, and more! If you are between the ages of 20 and 40 and would like to join, please email smmyamms@gmail.com.